Upcoming Event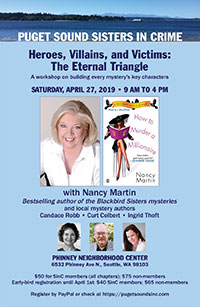 Heroes, Villains, and Victims: The Eternal Triangle
A workshop on building every mystery's key characters
Saturday, April 27, 2019
9 AM-4 PM
Phinney Neighborhood Center, Seattle, WA
Curt will be appearing on a panel with Candace Robb and Ingrid Thoft. The workshop is sponsored by the Puget Sound chapter of Sisters in Crime, and will also feature Nancy Martin, award-winning author of the Blackbird Sisters mysteries.
Workshop participants will have the opportunity to consider how they can adjust the characters in their works-in-progress to intensify the impact of their story.
Register for the workshop, and find more information, at this link.
Upcoming Books
All Along the Watchtower
To be released by Epicenter/Coffeetown Press in the summer of 2019. (No cover yet.)
It's the late summer of 1999. The body of Seattle PI Matt Rossiter's heinous platoon sergeant from Vietnam is found on Jimi Hendrix's grave in Renton, Washington. A large button pinned to his jacket reads: 'Are You Experienced?' Who killed him, and why, and what's the Hendrix connection? Battling personal demons as the members of his old platoon from Nam are murdered one by one, Matt is shaken to the core when he finally identifies and confronts the killer.
Nowhere Town 
(This novel is nearing completion and is the 4th book in the Jake Rossiter and Miss Jenkins hardboiled mystery series.)
It's 1949, and Seattle PI Jake Rossiter is accused of murdering Ma Pugnetti, the female leader of Seattle's most notorious gang. The problem? Jake has amnesia. Worse, he's on the run in a stolen police car not knowing whether he killed her or not. Even worse, he's pursued not only by the cops, but by Pugnetti's gang of hoodlums. He can't do squat if he can't remember squat. Then again, he's Jake Rossiter, and he'll find a way through the convolutions of his memory and the convoluted mystery itself even if it kills him. And it may do just that.
Awards
Rat City was a Shamus Award nominee for Best First P.I. Novel of 2001.
Curt received a Star of Washington Award for his novel Sayonaraville from the Western Washington Barnes & Noble Booksellers.
He was named a finalist for Adult Genre Fiction by the Pacific Northwest Writers Association in 2000.