Matt Rossiter & Rachel Stern Novels
Long-time collaborators Waverly Fitzgerald and Curt Colbert have introduced a new kind of literary collaboration with parallel novels that share characters and events. Hard Rain by Waverly Fitzgerald focuses on Rachel Stern and the anti-war movement. Curt's novel, All Along the Watchtower, features Matt Rossiter, a Vietnam vet with PTSD, who is hunting the killer attacking his old platoon members. Certain conversations, dramatic events and colorful characters appear in both novels but each can be read as a satisfying stand alone mystery.
Fitzgerald and Colbert are also the authors of the popular Barking Detective mysteries (writing as Waverly Curtis).
All Along the Watchtower

Released by Epicenter/Coffeetown Press, November 2019
The Vietnam war is long over. Or so Seattle PI Matt Rossiter thought. Thirty years later, it's back with a vengeance, slapping him in the face at every turn. Somebody is killing the members of his old platoon and Matt is increasingly reminded of his own actions during the conflict as he investigates.
Beginning with the body of his hated wartime sergeant being found on Jimi Hendrix's grave—with an "Are You Experienced?" button pinned to his chest—Matt is at a loss to explain it or why an old platoon list found on him has his name crossed off of it. To make matters worse, Matt hasn't got a clue about what the connection to Hendrix is.
After a copy of the same platoon list is taped to his door, this one with his own name crossed off, Matt is certain someone is out to murder his old comrades. He enlists the aid of Rachel Stern, a PI he helped train, to track them down, feeling it's his duty to warn them.
As he searches from Bellingham, Washington, to Milwaukee, Wisconsin; from Astoria, Oregon, to Oakland, California, the murders continue, and Matt has more and more flashbacks about his own actions during the Vietnam war. He's either too late with his warnings, or they are unheeded by his former platoon members, which only serves to increase his untreated PTSD.
By the end of his harrowing search, Matt's past and the present seem to merge into one as he follows a solid lead on the person that he thinks is responsible for the murders. But he is shaken to the core as he learns the reason behind the Hendrix songs when he identifies and confronts the killer.
Hard Rain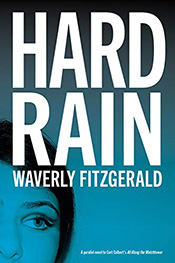 Seattle PI Rachel Stern usually does background checks for women looking for romance, not revolution. But in 1999, she agrees to investigate the past history of Ellie Foley, a Sixties activist who went underground after a violent bank robbery.
Quickly obsessed with her mysterious subject, Rachel uncovers dangerous secrets as she interviews people who knew Ellie during those turbulent times, and learns difficult truths about her parents participation in the anti-war movement. When she becomes part of a dangerous deception designed to lure Ellie out of hiding, she enlists the help of her mentor, PI Matt Rossiter, a Vietnam vet who is battling his own demons from that era. Seeking truth, Rachel is plunged into peril—for herself and the people she loves.