Jake Rossiter & Miss Jenkins Series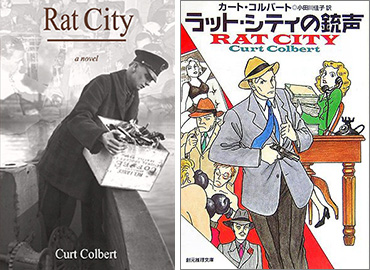 Rat City
"A raw, hard-boiled time machine back to blue collar Seattle in the 1940's, with a jolt of Jackson Street jazz that burns when it goes down, like a good slug of Rye. Rat City is fly!"
—Paul de Barros, author of Jackson Street After Hours: The Roots of Jazz in Seattle
Welcome to Seattle. Who is Big Ed? And why does he want detective Jake Rossiter pushing up daisies? To find out, Rossiter – with the help of his able-bodied girl Friday, Miss Jenkins – digs through layers of vice & violence in Seattle's seamy underbelly until he uncovers a case of corruption & prejudice that pits him toe-to-toe with hysterical dames, out-of-town muscle & the entire Rat City police force. Welcome to Rat City.
Sayonaraville
"…good old-fashioned private eye action, rat-ta-tat dialogue, and a colorful depiction of a rough-and-tumble blue collar town miles away from the shiny, happy, java-sucking Microsoft town of today."
—Kevin Burton Smith, Thrilling Detective Website
Welcome to Seattle. Who chopped off insurance agent Henry Jamison's head with a Samurai sword? While trying to deal with this, Seattle private eye Jake Rossiter also has to deal with his recently promoted junior partner – Miss Jenkins – who is about to take on the Hashimoto family as clients for her first official case. As the clues & danger mount, Rossiter & Miss Jenkins take more twists & turns than a rollercoaster at Playland! Welcome to Sayonaraville!
Queer Street
"…energetically evokes the best of classic noir fiction."
—Seattle Times
Welcome to Seattle. A girl named Trixie is dead. Only, this girl is a guy! When a call comes in from the infamous Garden of Allah saying their top female impersonator has been stabbed to death, the mystery is on: who knocked off this cabaret queen? Now it's up to Rat City P.I. Jake Rossiter and smart & sexy Miss Jenkins to crack the case… before the case cracks them! Welcome to Queer Street!