Seattle Noir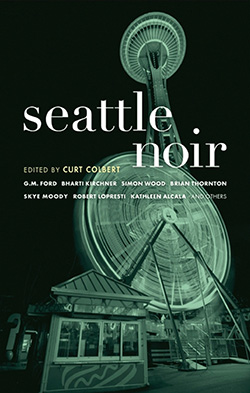 "These fourteen Noir entries that focus on Seattle are well written with most being super."
—Harriet Klausner
Edited by Curt Colbert, this anthology of Noir stories is part of the acclaimed Akashic Books city-based series of Noir short stories – each focusing on a different neighborhood in their respective cities – in this case, the Emerald City of Seattle. Each story is as diverse as every neighborhood.
Buy Seattle Noir:
From the introduction by Curt Colbert:
Early Seattle was a hardscrabble seaport filled with merchant sailors, longshoremen, lumberjacks, rowdy saloons, and a rough-and-tumble police force not immune to corruption and graft. Among the more notorious crimes in the city's early history was the case of Seattle Mayor Corliss P. Stone. A businessman and former member of the city council, Mayor Stone's term was cut short in 1873 when he got caught embezzling $15,000 from his firm, Stone & Burnett. He promptly fled to San Francisco with another man's wife…
By the 1950s, Seattle had added Boeing to its claim to fame, but was still a mostly blue-collar burg that was once described as an "aesthetic dustbin" by Sir Thomas Beecham, a short-term conductor of the Seattle Symphony Orchestra. Present-Day Seattle has become a pricey, cosmopolitan center, home to Microsoft and legions of Starbucks latte lovers. The city is now famous as the birthplace of grunge music, and possesses a flourishing art, theater, and club scene that many would have thought improbable just a few decades ago. Yet some things never change—crime being one of them.
Seattle's evolution to high finance and high tech has provided even greater opportunity and reward to those who might be ethically, morally, or economically challenged (crooks, in other words)… This is Seattle Noir. Cozy up in your favorite easy chair and crack the book open. And be sure to turn up the lights—you'll need them for when it gets dark.
Table of Contents
Introduction
Part I: Gone South
"Blood Tide" by Thomas P. Hopp (Duwamish)
"Promised Tulips" by Bharti Kirchner (Wallingford)
"Golden Gardens" by Stephan Magcosta (Ballard)
"The Center of the Universe" by Robert Lopresti (Fremont)
Part II: What Comes Around
"Blue Sunday" by Kathleen Alcalá (Central District)
"The Taskmasters" by Simon Wood (Downtown)
"What Price Retribution?" by Patricia Harrington (Capitol Hill)
Part III: Love Is a Four-Letter Word
"Till Death Do Us . . ." by Curt Colbert (Belltown)
"The Best View in Town" by Paul S. Piper (Leschi)
"The Wrong End of a Gun" by R. Barri Flowers (South Lake Union)
Part IV: To the Limits
"Paper Son" by Brian Thornton (Chinatown)
"The Magnolia Bluff" by Skye Moody (Magnolia)
"Sherlock's Opera" by Lou Kemp (Waterfront)
"Food for Thought" by G.M. Ford (Pioneer Square)